swaSushiSwap is one of the fastest rising DeFi platforms. SushiSwap mainly runs on the Ethereum blockchain, but it is also compatible with other platforms such as Binance Smart Chain and Fantom. Because of the growth of this DeFi platform, SUSHI tokens have achieved growth that has contributed to the boom of the network.
SUSHI is trading at $7.49 at the time of writing after a 4.6% gain in the past 24 hours.
SUSHI Price Analysis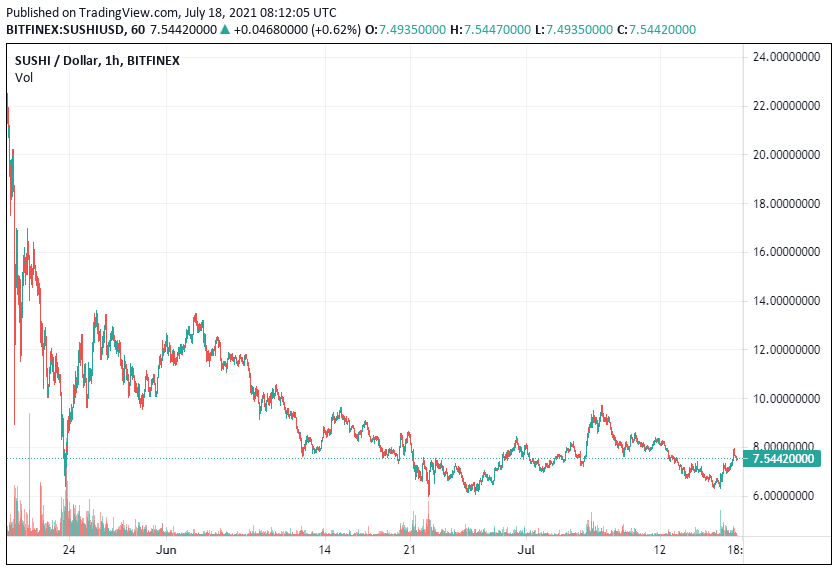 SUSHI has made exceptional gains in the past 24 hours. The token is close to pushing beyond $8, which might happen within the week if the upswing from market support continues. Volatility is currently high, which means that strong bulls will only be recorded if SUSHIswap breaks past $10 and maintains support here for a while.
On the downside, SUSHIswap might exhaust the uptrend, in which case it will move to retest lower support at $6.50. Traders could be waiting for SUSHI to go towards $6 to establish an entry position for buying during the dip. Even with a price decline, we might witness SUSHI prices consolidating slightly above $6.
The price of SUSHIswap could be headed towards an uptrend in August. SUSHI is expected to launch an NFT marketplace. The new NFT platform named Shoyu will be based on Polygon and Ethereum. Shoyu will not only boost liquidity on SushiSwap but also boost prices. Hence, a dip at this time would boost accumulation from speculative traders.
SushiSwap recently made a proposal to attract institutional investors and venture capitalists on the platform using Treasury funds. With this proposal, Sushi expects to use around 25% of the Treasury, but some community members have opposed the move. Arca, one of the largest investors of SushiSwap, has rejected the proposal terming it as "value-destroying."
Where to Buy SUSHI
If you want to buy SUSHI, create an account on the following exchanges:
eToro is one of the most reputable and secure cryptocurrency exchange platforms. eToro has a wide range of features, among them copy trading and a demo trading account. These features allow new traders to maximize their chances of making profits.
The other exchange that supports SUSHI is Huobi. Huobi Global is one of the largest cryptocurrency exchanges and hence has high liquidity, making it easy for users to settle trades. Huobi's trading fees are also competitive.
Published By : Inside Bitcoins
NFTRADAR