Decentralized finance, or DeFi, is a term commonly heard in the cryptocurrency space. But for the average Joe who is not familiar with it, this can be quite a daunting and intimidating concept to grasp. Ultimately, for crypto to be accepted by the majority of the population, first and foremost, the normal person needs to understand it. This is where Pancakeswap (CAKE) comes into play.
What is CAKE?
Pancakeswap (CAKE) is an automated market maker (AMM) and DeFi exchange with a cute twist – NFT bunnies, farming cakes and staking in syrup pools! This is a decentralized cryptocurrency exchange that is packaged and marketed as an easy, seamless and adorable way to do finance. It has all the utilities and capabilities that a traditional crypto platform has – swapping, trading, yield farming, staking, NFTs, etc. CAKE is the token used for transacting in the platform and currently, it is the 33rd-largest cryptocurrency on the market, with a market capitalization of $4.49 Billion.
Mainstream DeFi
It has positioned itself in the crypto market as an easy solution, enabling the average person to do crypto transactions without the hassle of tinkering with all the technical stuff related to it. Recently, Pancakeswap (CAKE) has even been making the rounds on YouTube and TikTok, as it seems to have hit the mainstream with its "Auto CAKE" feature. The automatic restaking feature allows anyone to participate in the transaction validation on a proof-of-stake (PoS) blockchain and earn staking rewards in the form of CAKE. At the time of writing, the annual percentage yield (APY) of doing so was at a whopping 77.94%! Several TikTok and YouTube influencers have learned about it and are already expressing their views regarding this as a way to earn passive income.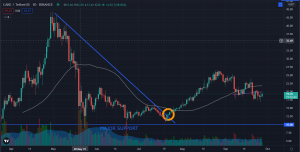 *CAKE: Trading below the 200-day moving average
CAKE Technical Analysis: Accumulation/Neglect Phase
CAKE recently broke its midterm downtrend line, in July, as it rallied from lows of 10.85 to a high of 26.60 on August 26, which was a 145% gain in less than a month. It has since corrected and quieted down, as traders took profits on their short-term gains. CAKE is now trading below the 50-day moving average (gray line) and the 200-day moving average (purple line).
From a longer-term perspective, it looks like it is now in an accumulation/neglect phase. The most likely situation for CAKE would be to consolidate near its major support level (10.00), within a tight range, before a possible rally late this year. It is best to accumulate CAKE near the support areas, or better yet to auto-stake it as well, to earn staking rewards while buying at a low price. But of course, always manage your risk. Watch out if CAKE heads down and falls below 10.00. This would cast a very negative sentiment on the coin and could cause it to dump and sell down even deeper. 
Published By : FX Leaders