NFT Mania Subsides After Breakout Month of Sales
For the digital art market, there really was no direction to go other than down.
Weeks after non-fungible token mania reached a crescendo with the record breaking $69.3 million Beeple auction at Christie's, sales figures across online marketplaces for digital art and collectibles have made a swift retreat.
Since the hammer dropped on the Beeple auction, the average daily value of NFTs sold across marketplaces tracked by Nonfungible.com — which doesn't include data from Christie's — has fallen from $19.3 million to as low as $3.03 million on March 25. That's left those who joined amid the frenzy wondering whether the market is undergoing a temporary pullback or if they're the butt of a joke that's made it as far as Saturday Night Live.
"Humans are prone to getting overly excited. It's in our nature, and is therefore predictable at the macro level," said Tom Bilyeu, the co-founder of Impact Theory, a digital studio. "What's happening now is an early correction that will make the market healthier in the long term."
Price Pause
Daily NFT volume is sliding since the Beeple Christie's auction
Still for those that bought in at the peak looking to make a quick buck, market conditions may appear grim.
The winning bid for Beeple's "Everydays: the First 5,000 Days" was made by Vignesh Sundaresan, also known as Metakovan, a cryptocurrency entrepreneur and backer of Metapurse, a fund that acquires NFTs and other virtual properties. Metapurse's B20 token, which offers fractional ownership of digital artworks to its holders, has seen its price plunge from a high of $29.78 at the time of the auction to $6.22, an almost 80% drop.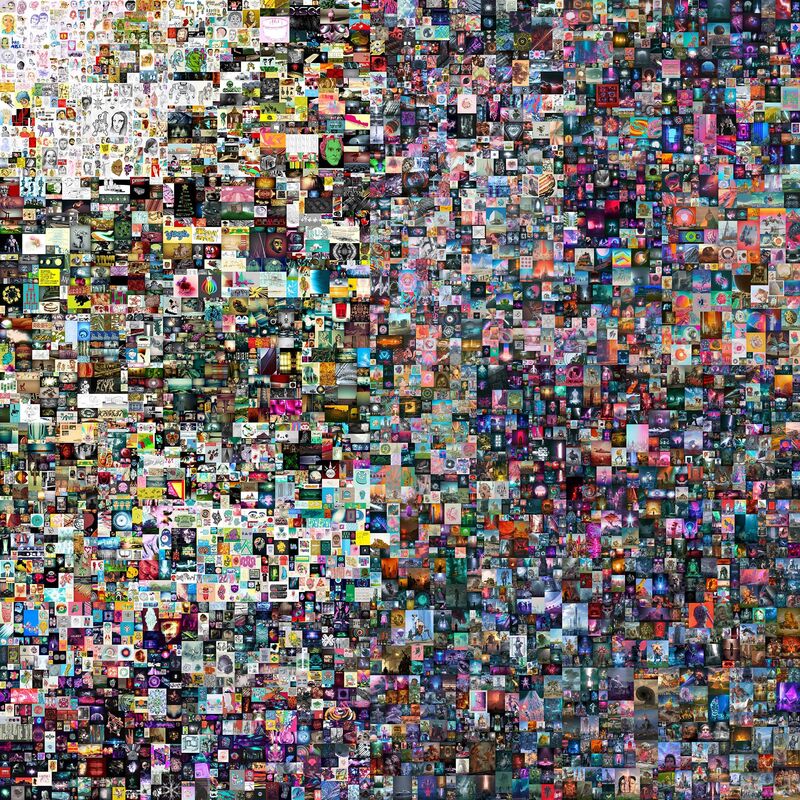 At NBA Top Shot, a platform where users can purchase video trading cards of the league's best moments, the total value of NFTs in circulation has plunged from $1.85 billion at the beginning of the month to $1.09 billion as of March 30 amid diminishing demand on the secondary market, according to data from evaluate.market. The market lull hasn't weighed on Dapper Labs, the company behind the platform: It announced a $305 million funding round Tuesday and fresh releases of new highlights still sell out in minutes.
"We probably got a little bit ahead of ourselves with the NFT price inflation recently," wrote Drue Kataoka, a technologist and artist, in an email. "There is no doubt that all intellectual property will gradually be digitized and that NBA Top Shot is just the beginning."
It's easy to attribute any wobble in NFTs to an overheated market fueled by those looking to turn quick profits, but an equally likely explanation is that the medium is still developing price discovery.
"When it comes to digital assets and NFTs, a central issue is the fact that we still don't have a firm understanding of the real value of the assets," according to a blog post from Hifi, a lending protocol that allows user to borrow against crypto assets. "Buyers are largely overpaying for the novelty and the exclusivity of owning the NFT. Novelty is hard to appraise."
To Kataoka, the digital artist, there's another obvious reason for the recent drop in prices: People are finally paying attention to the subject matter and culture surrounding some of the most prominent digital art.
"Another driver for the pullback, without question, is the unfortunate association of crypto art and digital art with 'tech bro' culture of geeky weirdness, often accompanied by distinctly sexist and racist overtones," she says. "It was clearly exposed in Beeple's Everydays. I'm surprised that it took so long and that it slipped past Christie's safeguards, but I'm also not surprised, given the well-established sexism and racism of the traditional art establishment."
PUBLISHED BY– Bloomberg
NFTRADAR