NFTs are booming and Yup – the social network for NFTs – is one of the ecosystem's hottest new properties, having just completed a funding round which included participation from NFT pioneers Dapper Labs, the company behind CryptoKitties and NBA Top Shot.  
Yup is a web3 social platform for rewarding curators and raised $3.5 million in the seed round, which was led by Distributed Global, a serial backer of projects that have gone on to become crypto unicorns, such as Dapper Labs, Audius and Solana. Top Asian investor in blockchain projects, venture capital firm LD Capital, based in Shanghai, also joined the seed round, alongside various founder angels.
Yup says the funding will be used to further develop a new web3-native social media experience and empower curators across the web.
The funding round was also joined by major players in the blockchain and tech space, including Dapper Labs, LD Capital, and various founder angels.
Yup recognizes tastemakers for curating content across both web2 and web3 platforms such as Twitter, Youtube, Opensea, Mirror, and others. The protocol aims to monetize the value generated by influencers and social media users who surface quality content.

Since launch, Yup has distributed more than $1.6 million in curator rewards. The platform has built a strong relationship with the NFT community, rewarding over $300,000 to NFT curators, with some individuals earning thousands of dollars in $YUP, the native token of the decentralized network.
Economywatch.com caught up with Yup founders Nir Kabessa and Vernon Johnson to ask them about how it all started, Yup's future plans, the significance of Coinbase's recent announcement that it is launching an NFT marketplace with social features, and important emerging trends in the NFT sector, plus much more besides.
Where did the idea for Yup come from and how did you get it to product and now successful seed round involving NFT royalty like Dapper Labs?
We (Vernon and Nir) have been obsessed with Web3 Social since we were students at Columbia University.
We've been laser focused on curators in particular, keen on rewarding and recognizing them in order to achieve more accurate social consensus and metrics. Nir wrote his undergraduate thesis on decentralized social networks and Vernon wrote his on distributed storage solutions.
We've garnered an expertise in this niche space over the last three years, expanding on our vision around Yup.
Dapper Labs was excited with Yup from an early stage and we have a very close relationship with Mik and Anuke [Mikhael Naayem, Chief Business Officer & Cofounder Dapper Labs and Anuke Ganegoda, Business Lead Dapper Labs].
Any plans for enabling creation of NFTs and moving into NFT-badged non-digital items?
Not any time soon, though anything's possible. We're focused on curating rather than creating since creators already have plenty of options for minting. Later this month, we are releasing more robust 'creator rewards' to creators of NFTs that are curated on Yup. Creators and owners will start passively earning YUP for NFTs they mint/own and Yup will become a critical lego piece in the NFT stack.
Art, gaming and sports collectibles are fast-growing areas for NFT – how is this reflected in curation activity on Yup?
NFT curators have earned over $300,000 on Yup and that number is growing fast. Their sentiment has taught us a lot about ongoing trends in the NFT space. For example, we saw a massive increase in curation of Axies back in 2020 before their rise to prominence. Yup collections will often be made for new art NFT projects on the day or two after their launch, which informs Yup users on what's hot or valuable.
Social capital: "flex" status, NFT projects becoming brands, legacy companies unlocking new revenue streams – do you see these as key drivers of value and what do you think are the important emergent trends?
Yup, these trends around social capital x web3 are extremely interesting to us, and we see them as key drivers of value. Some emergent trends we're watching include curator DAOs, social NFT communities, fractionalized NFTs, NFT badges (like POAPs), social graphs, and DAO reputation mechanisms. [POAP (poh-ap) – Proof of Attendance Protocol – are NFT badges distributed to prove attendance of an event]
Another social network – Facebook – thinks the future is the metaverse. How do you see Yup fitting into the metaverse?
We're big believers in the metaverse but it must be open and decentralized in its final form. It's commonly argued that Web3 will provide the metaverse with scarcity and identity, but what's often underappreciated is the benefits it provides around reputation and social consensus. One can imagine Yup being used to curate galleries or create exhibitions of content. DAOs and communities could use it as a reputation mechanism for coordination.
Coinbase announced yesterday that it was launching an "easy to use" NFT platform, for both creation and trading – it will also include a social aspect. Do you see Coinbase as a threat or more of a validation of what you are already doing and planning and why?
We see Coinbase as a partner. Yup is platform-agnostic and integrates seamlessly with dozens of NFT marketplaces. Coinbase's marketplace, assuming it's built on an open blockchain like Ethereum, will interoperate with Yup and its users will be able to earn from curating content on Coinbase.
YUP token price has spiked 200% or more since the news of the successful seed round broke – what plans are there around protocol development, next major milestones in terms of the influencer incentivization mechanism?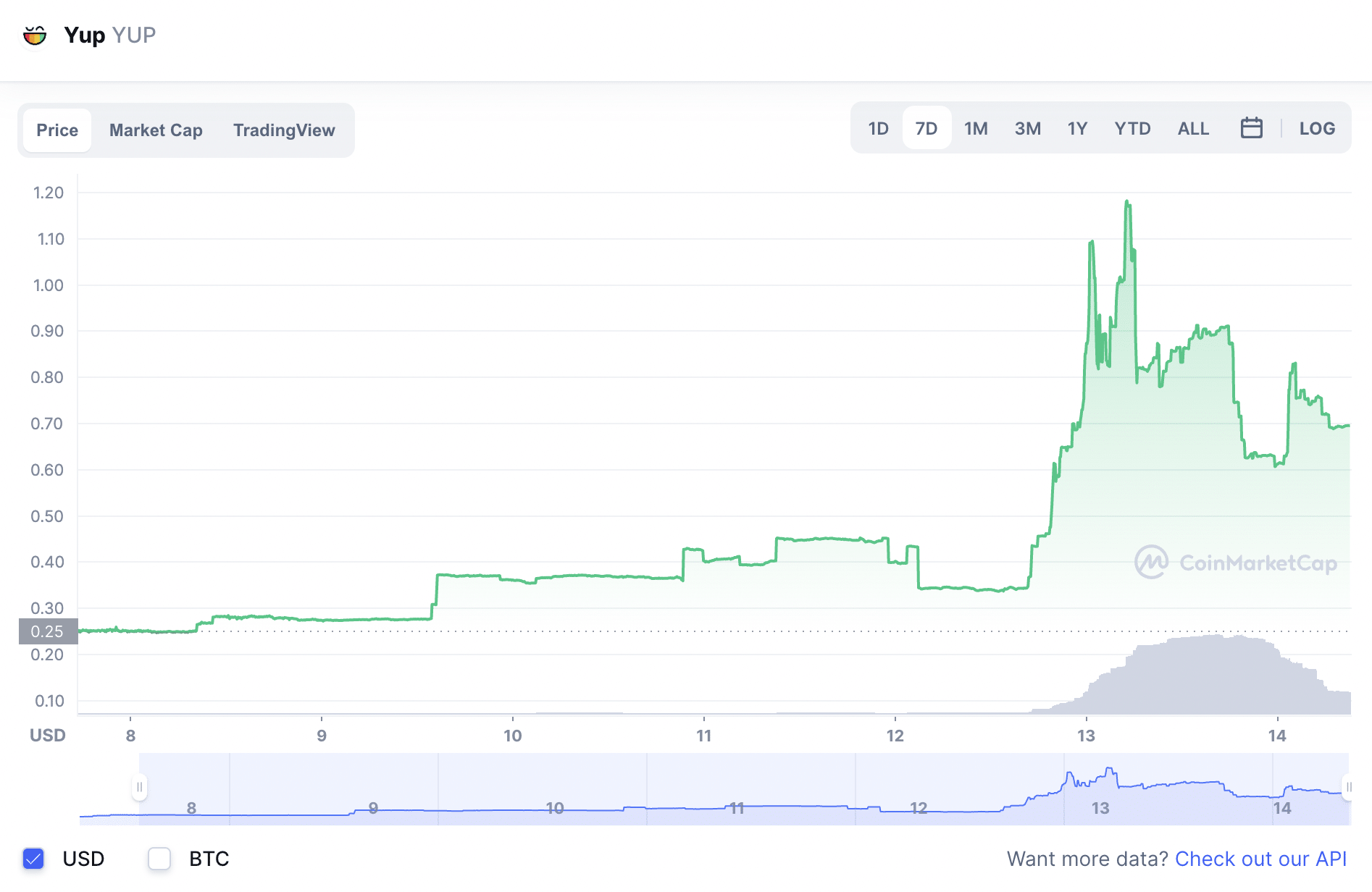 We're launching NFT creator rewards soon which will be a big hit. Owners and creators of NFTs will passively earn YUP when their NFTs are liked on the protocol. Additionally, like OpenSea and many DeFi projects, we recognize the importance of a mobile app for social interaction and have been working on one for quite some time. Next week, we're adding deep web2 and web3 integrations like Discord, Discourse, Rainbow, Axie Infinity, and Hic et Nunc.
---
What Yup investors said about the deal
"In our view, Web3 social is one of the most exciting categories and we believe Yup is positioning itself to be a leader", said Johnny Steindorff of Distributed Global.
"We're big believers in bringing blockchain to everyday users," adds Anuke Ganegoda, Business Lead of Dapper Labs. "Coupled with the exciting growth of the NFT space, social media and NFT curation might push web3 to the mainstream."
"Traditional social networks thrive on privileged and minimally accessible user data silos. Their business models depend on them. Yup, as a fully open and composable Web3 social network has the opportunity to empower builders and visionaries of the next great social applications," says Alex Price, who pre-seeded Yup and is currently a Special Advisor at A16z Crypto.
Published By : Economy Watch